Introduction
Are you an intermediate-level student looking to enhance your Quranic memorization skills while mastering the art of Tajweed? You've come to the right place. At TaleemulQuranHome.com, we offer comprehensive Online Quran Memorization Classes for intermediates with Tajweed, specifically designed to help you excel in your Quranic journey.
Intermediate Quranic Memorization with Tajweed
Mastering the Quranic memorization process is a significant milestone in any Muslim's life. To ensure that you progress effectively in your journey, our Online Quran Memorization for Intermediates program focuses on intermediate-level students who have already laid the foundation for Quranic memorization. By combining this with the art of Tajweed, your memorization will be enhanced and more meaningful.
Tajweed Practice Online for Intermediates
Tajweed is the correct pronunciation and recitation of the Quran, a skill essential for every Muslim. In our Online Quran Memorization Classes, we prioritize the integration of Tajweed rules to elevate your Quranic recitation. You'll learn the nuances of pronunciation, articulation, and proper Quranic chanting, making your memorization experience even more enriching.
Effective Methods for Quran Memorization Online
We understand that memorizing the Quran can be a challenging task. However, with our online program, you'll discover effective methods and techniques tailored to your intermediate level. Our instructors are experienced and skilled in facilitating Quran memorization, ensuring that you make steady progress on this sacred journey.
Intermediate Quran Memorization and Tajweed Rules
Our curriculum not only includes Quranic memorization but also focuses on the intricacies of Tajweed. The proper application of Tajweed rules is essential for understanding and delivering the Quran's message correctly. Through our Online Quran Memorization Classes, you'll become proficient in both areas, thus becoming a more confident and skilled Quranic reciter.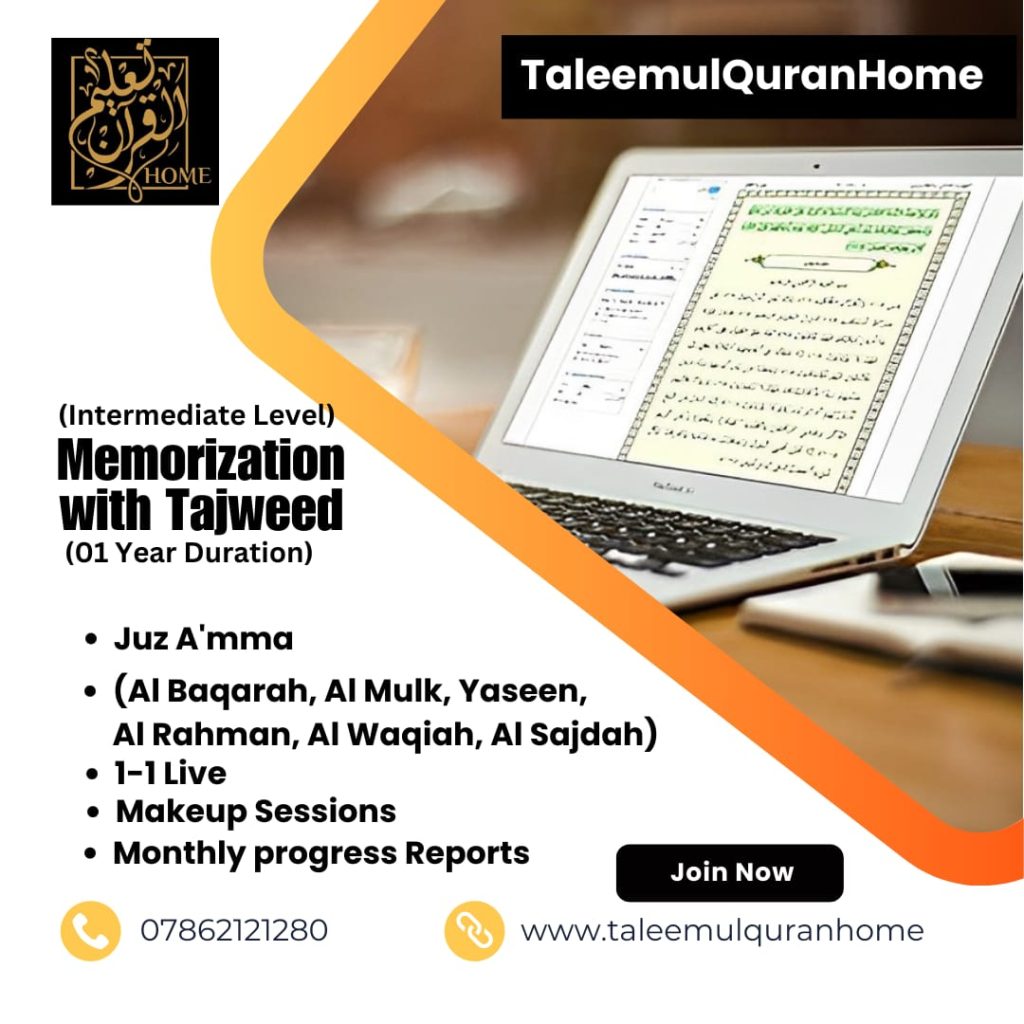 Online Quran Memorization Program for Intermediates
Our online program is convenient and flexible, allowing you to choose a pace that suits your needs. Whether you have a busy schedule or prefer to learn from the comfort of your own home, our online Quran memorization classes for intermediates are designed to accommodate your lifestyle.
Best Tajweed Classes Online for Intermediates
We take pride in offering the best Tajweed classes online for intermediate-level students. Our instructors are highly qualified and have years of experience in teaching Quranic memorization with Tajweed. You'll receive personalized attention and guidance to ensure your success in this program.
Intermediate Level Quran Memorization with Tajweed Online
In our Online Quran Memorization Classes, we cater specifically to intermediate-level students. If you've already begun your Quranic memorization journey, this program will help you advance further while perfecting your Tajweed skills. It's the ideal next step in your Quranic education.
Unique and Engaging Learning Experience
Our teaching methods are not only effective but also engaging and unique. We understand that a 15-year-old student might find traditional learning methods monotonous. Therefore, our lessons are designed to be interactive and tailored to suit the needs of students at different stages of their Quranic memorization journey.
Why Choose TaleemulQuranHome.com for Online Quran Memorization?
Experienced Instructors: Our instructors are experts in Quranic memorization and Tajweed.
Flexible Schedule: Learn at your own pace, and adapt your class timings to your convenience.
Interactive Learning: Our unique teaching methods make learning the Quran enjoyable and memorable.
Progress Tracking: We regularly assess your progress and provide feedback to help you improve.
Convenient and Accessible: Access your classes from anywhere, making your learning experience hassle-free.
In conclusion, if you're an intermediate-level student looking to enhance your Quranic memorization skills with a strong emphasis on Tajweed, our online Quran memorization program at TaleemulQuranHome.com is the perfect choice. Join us today, and embark on a fulfilling and enriching Quranic journey that will stay with you for a lifetime.